Feb 6th. Blast from the Past.
Details

Written by Paul Ryan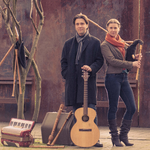 Blast from the Past are Chris Green (voice, keyboards and fretted strings) and Sophie Matthews (voice and woodwinds). Between them, they play over 30 instruments and their repertoire ranges from the Middle Ages to the early 20th century. They excel at presenting the sounds of the past in an accessible, engaging and contemporary fashion.
Details

Last Updated on Tuesday, 02 December 2014 16:39