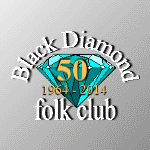 Here is your invitation to join us in celebrating the club's 50th Birthday. Many old friends of the club will be there and the opportunity to meet up, chat, sing and enjoy the guests is extended to all.
Friday Evening May 16th 8:30pm at the Lamp Tavern -
** SOLD OUT **
Pete Coe

Ex Resident and Committee member, Pete first turned up at the club in 1967 with his guitar and sang "Spanish Ladies". He became a valuable addition to the club and soon joined the growing band of residents at the New Inns. He later teamed up with Chris Richards, achieving national status on the folk scene. Pete has since become a one man folk industry,starting his own record label,performing in a number of high profile groups and teaching folk music and dance in schools as well as his folk club and festival bookings. He was the obvious choice as the club's guest at the Lamp on the Friday night to start our 50th birthday weekend.
Door price: £8
Saturday May 17th from 2pm at the Edgbaston Palace Hotel
Afternoon Concert Guests:

Brian Peters

Brian is a real powerhouse of traditional music and song. He is hailed as one of the finest ballad singers around while his playing of melodeon, concertina and guitar will have your feet tapping and your hands clapping for more. Brian has been a great supporter and friend to the club.

Major Mustard

Children and adults the world over know him as Major Mustard, puppeteer, showman and all-round entertainer, but today he brings his show very close to home. We know him as Mike Frost, singer and melodeon playing ex-resident of the club. Which of his shows will he present? That's for you to find out and to participate in. That you will join in, I have no doubt. "OH, YES YOU WILL!"

Mary Humphreys and Anahata

The opportunity to have them at our 50th was to good to miss. Mary's stunning voice and banjo playing and Anahata's cello and concertina playing make for a captivating evening. Some wonderful versions of familiar songs and the choruses will flow.

Followed by a break for a hot Buffet
Evening Concert Guests:

John Conolly

You have heard his songs sung as folk standards but the best interpreter is the man himself. They are coupled with a great stage presence and lots of humour. His love of Grimsby people and trades are woven into songs and stories that will captivate you. A man that has never rested on his laurels and his new material is always high class.

Grace Notes

Grace Notes are Maggie Boyle, Lynda Hardcastle and Helen Hockenhull. They perform a cappella and accompanied arrangements of traditional and contemporary songs in three-part harmony. Now in their 21st year, their highly praised and thoughtful repertoire make them one of the folk scene's best loved female groups. You will have plenty of opportunity to join in.

The Teacups

We are very excited to be able to bring you The Teacups. Formed in 2010 and studying in Newcastle they are Alex Cumming, Kate Locksley, Rosie Calvert and Will Finn. Equally at home singing both traditional and contemporary songs in four part harmony. They will soon win you over their warm stage presence and sense of fun. What better way to end the night but to join in some of the songs that have resonated down through the years at the club sung by the next generation.
Tickets: £25 All Inclusive
Sunday May 18th Lunchtime at the Lamp Tavern
Survivors sing around

To all the many regulars who value the sing around evenings at the Lamp Tavern.

A sing around will also feature in the 50th celebrations as Eddie, the landlord, has kindly agreed to open the room for us on the Sunday lunchtime, May 18th. Those who survive the previous two days events, plus anyone who wishes to take part, are welcome from 12.30 till 2.30. This is a free event so hope to see you there.
Free entry