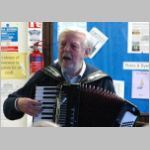 We are very pleased to welcome Brian on his first visit to the Diamond.
This is a rare chance to hear Brian on an infrequent foray from his beloved Lincolnshire. He brings a wealth of songs and tales many garnered from past singers and their relatives from his surrounding area. Some gems you may not have heard before.
Click Read More to hear Brian sing ...
The following songs were recorded by Dave Evardson. A longer recording is available here.
Ladies Charmer
Turpin Hero 
Sound clip by kind permission of Dave Evardson.