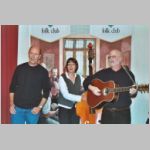 ** SOLD OUT ***
Finest Kind's glorious harmony singing and brilliant vocal arrangements bring a fresh sense of excitement and discovery to the performance of old songs. Newsflash - The trio are joined on tour by fiddler and mandolinist James Stephens a master of styles rangining from Irish to Cape Breton, bluegrass to swing.
Bay of Biscay

From Finest Kind's new CD, "For Honour & for Gain"
Listen to more from Finest Kind in our Archive...