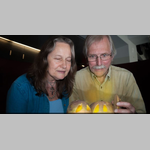 This is a different night for us - a film in the first half and then Jill and Doc singing in the second.
Jill, who now resides in Robin Hood's Bay, rarely gets down this way and has a wonderful repertoire of traditional songs which will leave you wanting more.
Doc tells me he will be dusting down his guitar and larynx to join Jill. Doc is our foremost archivist of all things folk.
In the first half he will be presenting a film of "The Transports", the folk ballad opera written by Peter Bellamy in 1977, and based on the true story of two 18th century Norfolk convicts transported in the First  Fleet to Australia. This is film of the 1987 costumed production featuring Peter Bellamy himself, Pete Morton, Kirsty Potts, Jim Eldon, Dave and Heather Brady, Mike Bettison, Tim Laycock, John O'Hagan, with choreography by Chrissie Thomas and musical direction by John Kirkpatrick. Directed by Taffy Thomas and Mike Bettison, this performance was performed in Portsmouth as part of the Australian bi-centennial celebrations. Filmed over five nights by Doc Rowe, this finely edited film is probably the best version of the show ever produced with stunning performances from all the cast ... and what a cast!