Page 8 of 15
November 1999 back to our underground Picasso at The Turk's Head. Although some of the residents had a love-hate relationship with the wall paintings, the acoustics and intimacy of the room resulted in some great nights. The atmosphere of the room seemed to bring out the best in our guests, and the audience participation was second to none. Tony Rose was first booked by us way back on 14th Feb 1969, and we were really pleased to book him again following his return to singing.
September 2000 saw the start of our 37th season, with the return of a number of favourite guests, including Chris Foster, Les Barker, Tim Laycock and Hilary Spencer. New to the club, but now firm favourites were Bill Whaley and Dave Fletcher. The next couple of years saw a number of nights which were a bit different, including a club swap with the Somers Folk Club, Pepper's Ghost, who gave us a magic lantern show with songs and music to accompany the Victorian slides and Anne Adams, one of our residents, launched her CD from the club.
The 39th season in 2002 saw us book the reformed Regal Slip, Roy Harris on his farewell tour, and Dave Sealy who had returned to the clubs after the sad loss of his brother Al.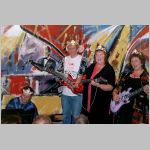 Our 40th year was a bit different, in that we held a poll amongst our regular audience to find out which guests they wanted us to book for this special season. We managed to get quite a high proportion of the "top ten" including John Kirkpatrick, Bill Caddick , Brian Peters, Martin Carthy, Jez Lowe and Sarah Gray. As close as possible to the actual date the club came into existence, we booked Mrs Ackroyd's Big Band and packed the club for a terrific night of entertainment. To cap it all we had a birthday Singers' Night, packing 53 people into the room, of which 33 were singers/musicians.
Our 41st season carried on in the same successful manner, running with a mixture of old and new guests, alternating with some terrific singers' nights. However there were storms on the horizon in the guise of a new landlord, who decided that we couldn't charge admission on the door. So on May 27th , following a great night's entertainment by Scolds Bridle, we were on the move, treading the streets yet again. Each time in the past when we have had to move, it has been extremely difficult finding a suitable pub, but this time we had a choice of 3, luckily the best option was within a third of a mile of The Turks' Head. So a midweek move down the road and the next Friday we kicked off at the new premises with a singers' night.