Page 9 of 15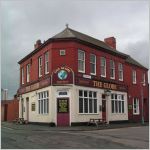 The Globe had an upstairs clubroom, which the licensee had newly decorated and was looking to hold live music nights (including a music licence), so everything fell in place. Our second night at the new premises was a rip-roaring success with two of the best squeeze box players around, John Kirkpatrick and Chris Parkinson, on their "Sultans of Squeeze" tour. Since moving to the Globe we have had some memorable nights, particularly with James Fagan and Nancy Kerr, and from Canada, Finest Kind, who treated us to some terrific harmonies and arrangements of songs.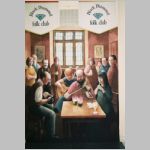 In March 2006 we commissioned John Crane to paint a backdrop to hang behind the stage and were delighted with the result which can be seen on promotional photographs of a number of our guest.
Our 43rd year ran reasonably smoothly and life was made a lot easier by having a licensee at the Globe who is very supportive of the folk club. Some of the guests booked that season include Witches of Elswick, Grace Notes and Strawhead. We gave "Th'Antiques Roadshow a grand send off with the last night of their final tour, and packed the club for Crucible from Sheffield. The season finished with Gordon Tyrell and Maggie Boyle doing one of their rare bookings, and a real treat it was too.